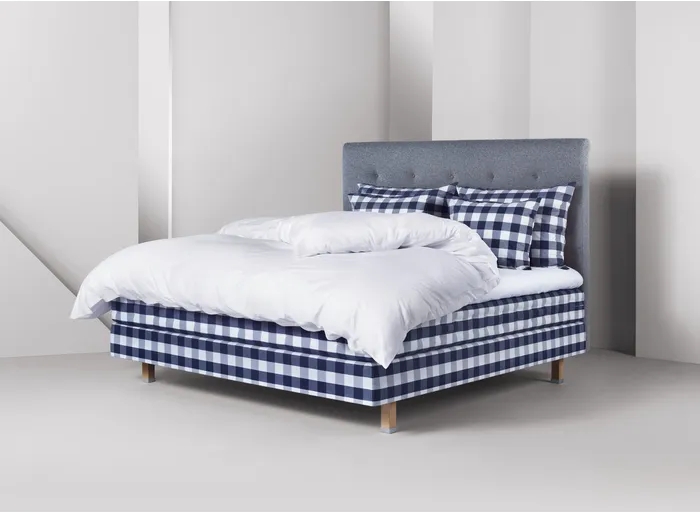 The amusingly named Hästens Maranga (the Maori word for "Ale up") is like sleeping on a bed made of several layers of clouds, almost like a sleep nirvana. With that in mind, Hästens is truly aiming for the stars when it comes to the softness, firmness, and pliability of this wonderfully comfortable mattress.
When you lie down on the Hästens Maranga, a wonderful sense of tranquility will envelop you. The bed epitomizes responsive pliability. Relax as the bed gently hugs as you sink into it and then watch as it rises again when you get up. No one would ever know that you just slept in the bed thanks to its incredibly responsive design. Relive this wonderful sensation each night you go to bed on the Maranga.
The handmade Hästens Maranga uses the finest all-natural materials like horsetail hair, wool, cotton, and flax to create a night of supremely restful sleep. Each layer is carefully assembled by hand by a team of highly skilled artisans using a technique that's been perfected for centuries.
This update is by Brickell Mattress. We sell luxury beds and the world's top mattress brands: VISPRING Luxury Beds and mattresses, Hästens Since 1852 and CARPE DIEM BEDS OF SWEDEN. We offer a sterling selection of mattresses including organic & natural latex, as well as handcrafted beds and innerspring mattresses. We also have a broad selection of bedroom furniture and accessories. With more than eight years of working in the bedding industry, we pride ourselves on being your premium quality sleep center in Miami-Dade County. Visit us online at http://www.brickellmattress.com, at our store located at 1030 SW 8th Street in Miami or give us a call at 305-326-4000 for more information on Hästens mattresses or other brands.