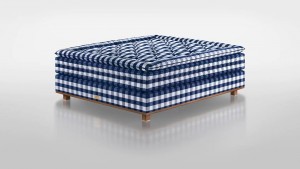 In an industry such as mattresses where there are so many competitors aiming to perfect the science of sleep, the industry has evolved from a series of salespeople selling well-known brands to several lesser-known names catering to consumers looking for mattresses that are environmentally friendly, modern, and can genuinely help a person get a better night's sleep.
This topic was one of the talking points in an article published earlier this year in ICONIC Magazine which covers design, food, travel, and style. Titled "Smarter Sleep is a Wink Away", one of the brands covered in the article is Hästens which ICONIC recommends as the mattress readers should purchase "if money is no object". One of the mattresses specifically mentioned is the article is the widely acclaimed Hästens Vividus which the article says is "the closest thing to a haute couture mattress you can get".
If you're curious to try a Hästens bed, visit the Brickell Mattress store today and see why you'll never sleep the same way again once you've tried a Hästens mattress.
This update is by Brickell Mattress. We sell luxury beds and the world's top mattress brands: VISPRING Luxury Beds and mattresses, Hästens Since 1852 and CARPE DIEM BEDS OF SWEDEN. We offer a sterling selection of mattresses including organic & natural latex, as well as handcrafted beds and innerspring mattresses. We also have a broad selection of bedroom furniture and accessories. With more than eight years of working in the bedding industry, we pride ourselves on being your premium quality sleep center in Miami-Dade County. Visit us online at http://www.brickellmattress.com, at our store located at 1030 SW 8th Street in Miami or give us a call at 305-326-4000 for more information on Hästens mattresses or other brands.