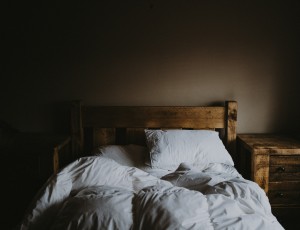 The quality of your sleep matters a lot, because it can affect your mental capacity for the rest of your day. A restless, light sleep means you might still be tired in the morning. If you find yourself struggling to get a good night's rest, then follow these tips to increase the quality of your sleep.
Take a sleep study. A sleep study is the best way to discover your sleep problems. The study can tell you why you have trouble sleeping, if you wake up multiple times a night, and what sleep cycles you're in. Doctors can diagnose you with a sleeping disorder through a sleep study.
Put your electronics away. Electronics can distract from sleeping, and the brightness from the screen can keep you up. Put your phone in another room.
Sleep in a cool, dark room. Make sure you aren't uncomfortable at night, because then you'll have more difficulty sleeping. You could turn on a fan, use a different blanket, or change mattresses. Brickell Mattress sells dozens of mattresses that might help you out.
Try to go to sleep and wake up the same time every day. This will help your body fall into a sleeping rhythm. Over time, it might get easier to fall asleep.
These tips will help you maintain a steady, restful sleep every night but don't forget that your mattress also helps. If you haven't tried the magic of Hästens or other brands like Vispring, these mattresses are made with natural materials for a better night's sleep. We'll be happy to tell you more.
This update is by Brickell Mattress. We sell luxury beds and the world's top mattress brands: VISPRING Luxury Beds and mattresses, Hästens Since 1852 and Carpe Diem mattresses. We offer a sterling selection of mattresses including organic & natural latex, as well as handcrafted beds and innerspring mattresses. We also have a broad selection of bedroom furniture and accessories. With more than eight years of working in the bedding industry, we pride ourselves on being your premium quality sleep center in Miami-Dade County. Visit us online at http://www.brickellmattress.com, at our store located at 1030 SW 8th Street in Miami or give us a call at 305-326-4000 for more information.