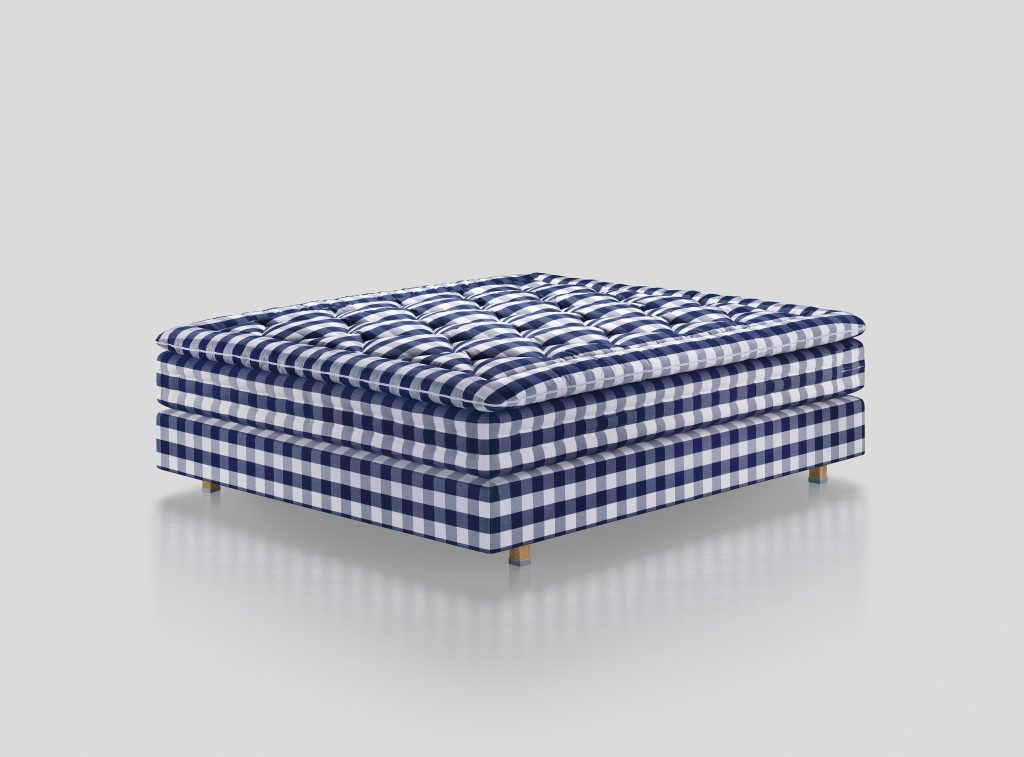 The Hästens Auroria has a soft personality that is reinforced by its spring systems. This elegant bed is built to relieve pressure in all of the right spots while providing exceptional hip and upper body support thanks to these springs that easily deliver a perfect balance of softness and optimal pliability. These springs are nestled within layers of natural cotton, wool, flax, and horsetail hair. The Auroria allows the body to adjust without issue to your body's unique contours, distributing pressure and fantastic softness across the body's entirety. If you have yet to experience the comfort and majesty of the Auroria, you're missing out on a bed that allows for one-of-a-kind movement.
The Auroria features an innerspring base, the mattress, and removable topper. Its stable base and its 5-inch Bonnel coil spring system create the perfect foundation while the bed embroidery is done by skilled craftsmanship to ensure the finest quality. The best thing about the Auroria is that it can be customized to suit your unique requirements which means a softer touch and exceptional support so you enjoy a peaceful sleep throughout the entire night with less tossing and turning, resulting in an energizing start to every morning.
We invite you to experience the Hästens Auroria. Speaking of, don't forget to take advantage of the Hästens sale! Purchase select beds and we'll include a complimentary BJ Top Mattress.
This update is by Brickell Mattress. We sell luxury beds and the world's top mattress brands: VISPRING Luxury Beds and mattresses, Hästens Since 1852 and CARPE DIEM BEDS OF SWEDEN. We offer a sterling selection of mattresses including organic & natural latex, as well as handcrafted beds and innerspring mattresses. We also have a broad selection of bedroom furniture and accessories. With more than eight years of working in the bedding industry, we pride ourselves on being your premium quality sleep center in Miami-Dade County. Visit us online at http://www.brickellmattress.com, at our store located at 1030 SW 8th Street in Miami or give us a call at 305-326-4000 for more information on Hästens mattresses or other brands.