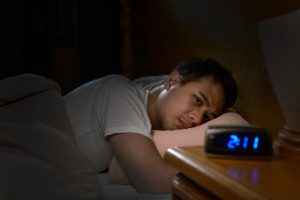 Trying to fall asleep when you have to get up early the next day can be incredibly frustrating, especially if it's something that happens on several occasions. These frequent sleepless nights may cause you to wonder whether you're dealing with a sleep disorder such as insomnia. However, it's important to know the difference between having a genuine sleep disorder or if you're simply not sleeping well.
Take a look at your sleep hygiene. If you regularly look at your phone, watch television, or use your laptop before bed, the blue light is not doing you any favors. It is also important to take into account the temperature of the room, if you're sleeping with any lights on, or if you're going to bed at different times each night. All of these may be causing sleep disturbance.
Are you taking any medications or are you drinking caffeinated beverages too close to bedtime? If so, this will also contribute to poor sleep quality. You should also consider if something is stressing you out, whether it's mentally or physically.
It's also important to remember that with insomnia, not only is it difficult to asleep, it typically involves waking up several times during the night and staying awake, resulting in short periods of sleep where disruptions are likely. Hence, differentiating between genuine insomnia and sleeplessness is vital.
Do keep in mind that your mattress may be a contributor. Having a mattress that is designed to help you achieve the deep sleep period is key. If you have questions, we can point you towards a potentially better night's sleep.
This update is by Brickell Mattress. We sell luxury beds and the world's top mattress brands: VISPRING mattresses, Hästens Since 1852 and CARPE DIEM BEDS OF SWEDEN. We offer a sterling selection of mattresses including organic & natural latex, as well as handcrafted beds and innerspring mattresses. We also have a broad selection of bedroom furniture and accessories. With more than eight years of working in the bedding industry, we pride ourselves on being your premium quality sleep center in Miami-Dade County. Visit us online at http://www.brickellmattress.com, at our store located at 1030 SW 8th Street in Miami or give us a call at 305-326-4000 for more information on Hastens mattresses or other brands.